A Place of Ideas for your Ministry
Father Jonathan Morse, Ph.D., BCC
Chaplain,
VA Maryland Medical Centers
and
CH (LTC) United States Army Reserve Retired
Welcome to the home of the FOUNDATIONAL, JOINT AND MULTIFACITED MINISTRIES based upon the work of Father Jonathan Morse.
I am serving as a Clinical Staff Chaplain at the VA Medical Centers in Perry Point, and Baltimore. For Pastoral Care Week I did a minute presentation on what I do (All the Chaplains did one,) If you would like to see it click HERE
New articles added to Articles in NEW STAR:
Quick Guide for Health Practitioners: Religious Practices
Paperback
For Health care practitioners, wholistic health care demands that they know about the religious practices (Diet, organ donations, blood transfusions, etc.) and beliefs (euthanasia, cremation, autopsies) that will from the patient's point of view (modesty, hair removal, removal of clothing) how they want the respect of their beliefs.
In just a few pages, readers will find in one book the positions of these faith systems: Buddhism, Catholic, Christian Scientist, Hindus, Islam (Muslims), Jehovah's Witnesses, Judaism (Jews), Latter Day Saints (Mormons), Native American, Orthodox (Byzantine Christian), Protestant, Other Protestants (Assemblies of God, Church of God in Christ, Episcopal, Lutheran, Methodist, Presbyterians, Seventh Day Adventists,) Sikhs, and Wicca.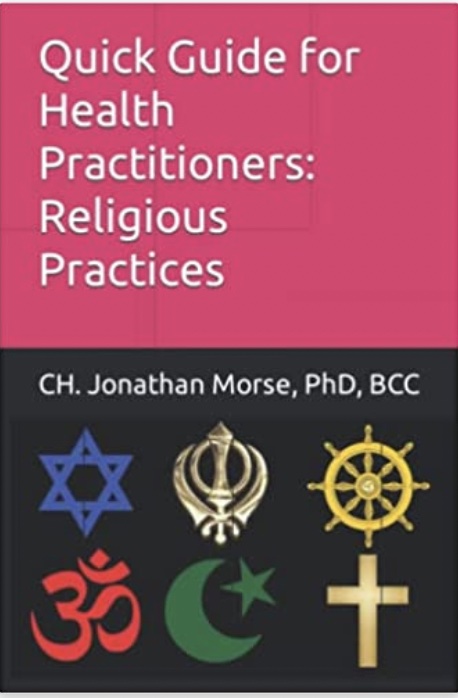 New Catechetical Material Added = Three Sessions on Catholic Social Teaching, Go to Catechetical Ministry
For our latest books see our Publications page.
commUNION is now available on Amazon.com.
Contact Rev. Morse
for information about my sermons, publications, religious education, medical ministry, ministry, theology, Ukrainian Catholicism
PHONE
(855) FJM-1198 [(855) 356-1198]
(435) 562-1465
EMAIL